Switch-on of Christmas Tree Lights
All are welcome to the switch-on of the Christmas Tree Lights and Carol-Singing in the village on Sat 2nd at 8.30pm. Refreshments to follow in Coopers. .
Santa in Birdhill
See accompanying picture for details of Santa's visit to Birdhill on Sunday 10th
Changes to Tidy Towns Competition?
The Department is holding a series of countrywide consultation sessions to discuss possible changes to the Tidy Towns Competition. Can the current system be improved? Are all the adjudication categories appropriate? Can you suggest changes, modifications or improvements? Any suggestions or ideas would be welcome ahead of a meeting in Limerick next week.
Community Night Out
We have arranged Dinner at the Lakeside Hotel on Saturday 25th November at 7.30pm. Cost is €30 per head for a 4 course a la carte meal. If you would like to attend, please contact any member of the committee by Mon 20th.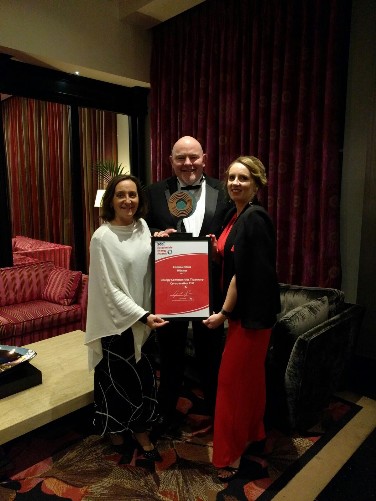 Another Winner
Congratulations to ECTC (Energy Communities Tipperary Co-op) which won the SEAI National Community Award this week. This group is driven by our own Terry Griffith and Aileen Campion who started off our own local Energy Scheme some years ago. Many houses and public amenities in our community have benefited from the scheme which has now spread to a number of neighbouring communities. See attached pic of Aileen receiving the award.
Cinema Tickets Winner
Well done to Jack Fitzgerald, Ballyhane, Birdhill, who won tickets to the Odeon Cinema, Castletroy in our recent Facebook competition.
Tidy Towns Awards
We will be receiving the 2017 National Tidy Towns awards and cheques at a ceremony in the Abbey Court Hotel Nenagh on Mon 20th November at 7pm. If anyone would like to attend, please contact any member of the committee.
Annual General Meeting
The Tidy Towns AGM held on Wednesday night was well attended, provided many fruitful discussions and laid the foundations for the next year. Thanks to all who attended. The following officers and committee were elected to take the association forward:
Hon Presidents: Fr John O'Keeffe PP, Ted Moynihan, Martin O'Brien, Michael Kelly, Mary Ryan
Chairman: Denis Floyd
Vice-Chair: Aileen Campion
Join Secs: Grainne Delaney & Terry Griffith
Treasurer: Paddy Barry
Ast Treasurer: Donnchadh Floyd
PRO: Anne Barry
Youth Liaison Officer: Margaret Hogan
Education & Integration Officer: Marie Gorman
Committee: Margaret Clifford, Kathleen Bradley, Nuala Lawlor, Fiona Ryan, Brett Fitzpatrick, Bernadette Hogan, Marian O'Brien, Siobhan Larkin, Majella Foley-Friel.
The committee hopes to have its first meeting on Monday 13th November.
Sub-committees will also be appointed under a number of headings to plan a programme of activities for 2018. We would welcome anyone who would like to be involved in any of these committees.
Fashion Show
Last week's Fashion Show was a great success, enjoyed by a large attendance. Many thanks for the wonderful support. It would be appreciated if any outstanding money for tickets or adverts were forwarded immediately.
Bridget O'Brien R.I.P.
We are saddened at the passing of former Tidy Towns committee member and worker, Bridget O'Brien. As a midwife in the Regional Maternity Hospital, she was known to many people. As a Tidy Towns activist, she brought a great knowledge of plants and gardening to the community. She will be missed by a wide circle of friends. Our sympathy to Martin and all her relations. Suaimhneas síoraí dá hanam.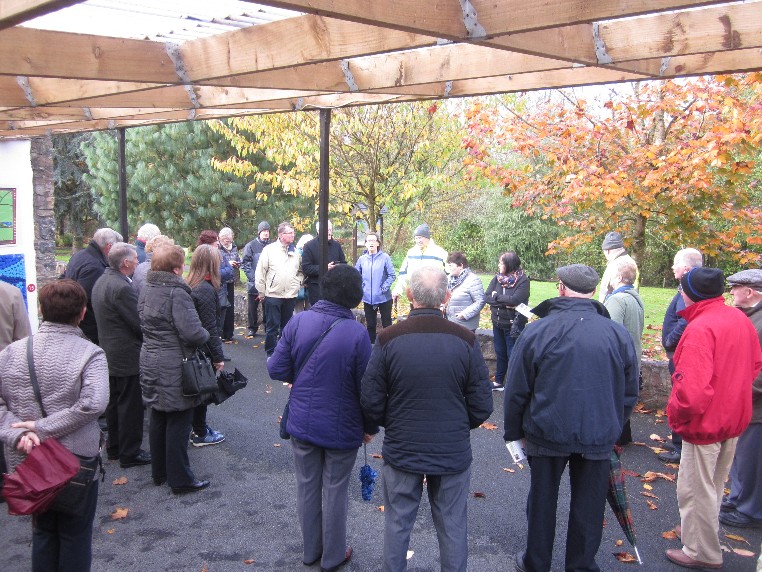 Visiting Birdhill
It's great to see so many visitors around Birdhill in recent weeks. Last Saturday, we showed 2 large groups around, all anxious to pick up ideas for their own Tidy Towns committees. Tá fáilte roimh cách go Cnocán An Éin Fhinn. Picture below shows a visiting group from Kildorrery, Co Cork.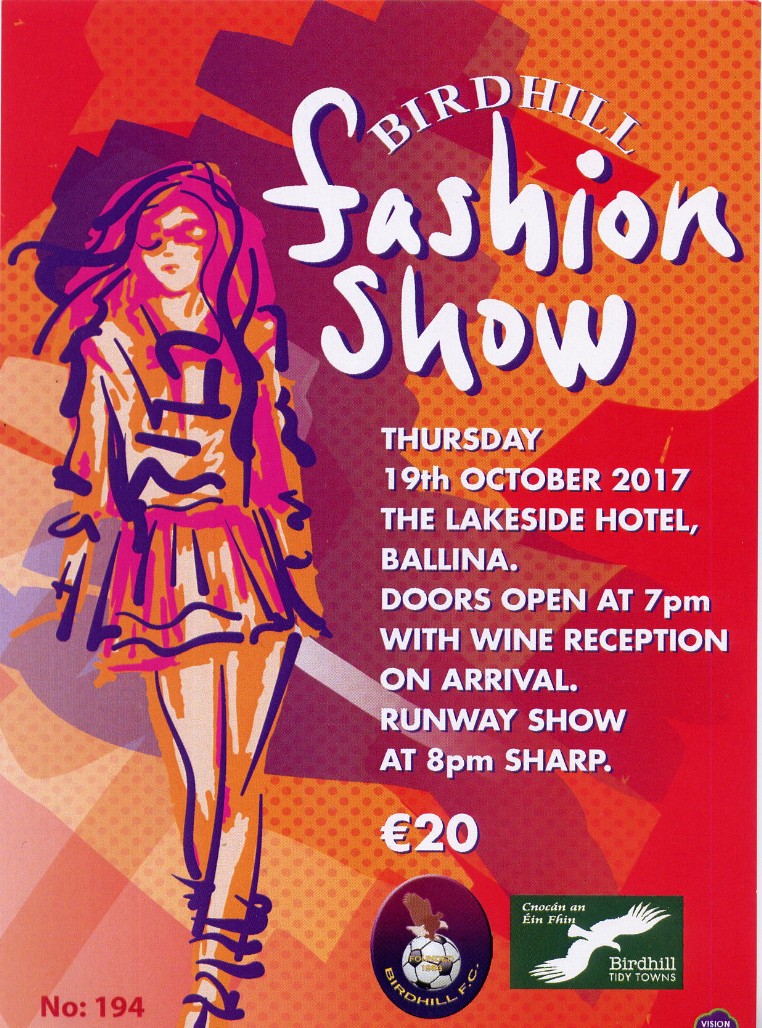 The little community of Birdhill is rejoicing this week after being named the overall winner in the 2017 National Tidy Towns Competition. Having received the Tidiest Village accolade on four previous occasions, the elusive overall title was often within touching distance, but it has now been finally reached. We are particularly delighted that such a small village could win this prestigious award against so many highly-rated opponents. Credit is due to the numerous people who have contributed to the cause, manually or financially since we first entered in 1991. It is the combination of all those efforts which has built up the village and the community to the level it is at today. Míle buíochas do gach éinne.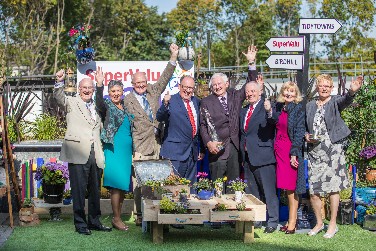 Dates to Note
Community Celebration in Matt The Threshers on Friday 6th October at 8pm
Birdhill Fashion Show in The Lakeside Hotel on Thursday 19th October
Birdhill Tidy Towns AGM in Matt The Threshers on Wednesday 25th October
Would your family like to feature on Reality TV?
Message from Catherine O'Mahony of WAKA TV:
We are producing a new series for RTE called Raised by the Village and we are considering Birdhill as our village location for the programme.
As the old saying goes, it takes a village to raise a child. We want to make that saying a reality by bringing a teen from an urban environment down to a rural village where they will learn that there's another way of life than the one they're used to. They will be immersed in the community, partaking in different activities and challenges over the course of a week long stay.
The teenager will stay with a host family and will have mentors from the community as they get involved with each different activity or club event. The teen will have been nominated by their parents to take part for various reasons – perhaps they're a social media or computer game addict, or lazy around the house. We want to see how a completely urbanised, city kid will adapt to their new surroundings and if their break from their usual environment will set them back on the right path in life.
This new programme is for a primetime RTE slot and we feel it will showcase the village and the benefits of rural living to a wide audience. All the best aspects of the village will be highlighted, focusing on the strong sense of community and collective support system that can be missing in bigger urban areas these days. We think this could be a fantastic opportunity to display Birdhill in a positive light to the RTE viewers, while giving the teenager an eye opening and hopefully life changing experience that they'll never forget.
Of course, filming in the village depends on if we have the right family to host! We are looking for a family with teens or kids in the house who are happy to take on one more for the filming period. They would be the surrogate parents while the teen is there, and the teen would be fully expected to row in with household chores and family routines. Even better, if the family lives on a farm the teenager can muck in too! The teenager's journey in Birdhill would be filmed by our small crew of one camera, one sound, one producer and one director. They would be in the village for the week, charting their progress with their host family and as they take on each different challenge.
We are speaking to a number of villages at the moment but we would love if you could spread the word around the village and see if people are interested in getting on board. Once we knew there was interest there, we could come down in person to outline what the process would involve and discuss how Birdhill could be the best fit for this show.
See details on attached a flyer.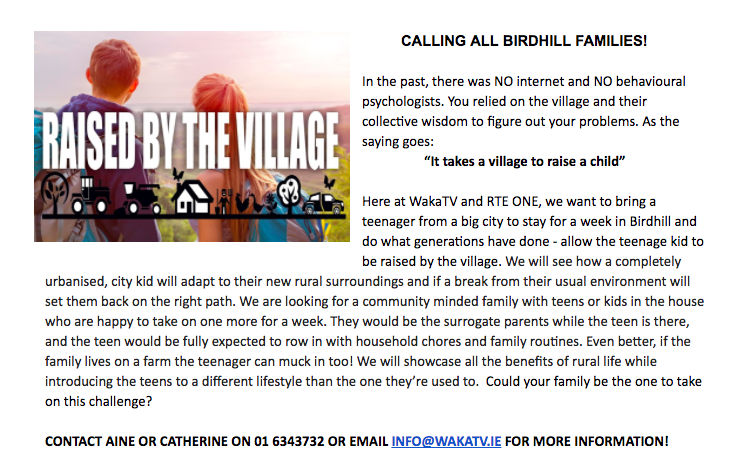 Garden Competition
Congratulations to Donnchadh Floyd, winner of the Birdhill Garden Photo competition 2017 and to Anne & Paddy Barry who won the special pollinator category award. Winning entries below.
Our thanks to Auven Melia of Tipperary County Council who adjudicated and to McKeogh's Hardware and Applegreen who sponsored the prizes.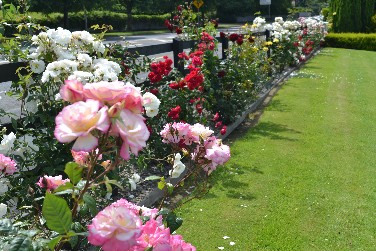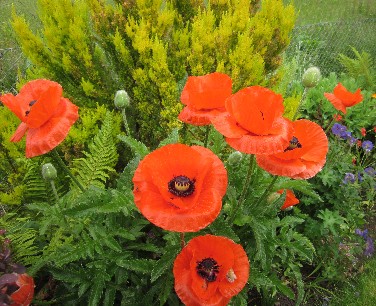 Community Weekend
A varied series of events led to an enjoyable Community Weekend in Birdhill. A big thank you to all who helped in the planning and organising and to all who came along to support or participate.
We are grateful to Larkins Gala, Annacotty Farm Shop, Tipperary Water, Applegreen and Sean O'Brien Engineering for sponsorship and materials supplied.
Well done to the cyclists who endured some torrential rain on Thursday evening in their race on the roads around Birdhill. That race helped the participants in preparation for the Tipperary Championship race which will take place this Tuesday 1st August over the same course, but with a bigger and more competitive field. Why not come along and cheer them on as they pass through and hopefully see an exciting finish in the village around 8.30pm.
The Teddy Bear's Picnic proved to be a great attraction with a large number of children enjoying a lovely afternoon. Leah & Megan Shinners received the prize as best-dressed participants, while Abigail Bates had the best-dressed teddy.
The Galvin Family were winners of the Treasure Hunt which took participants on a tour of Newport, Toor and Rearcross.
Treasure Hunt winners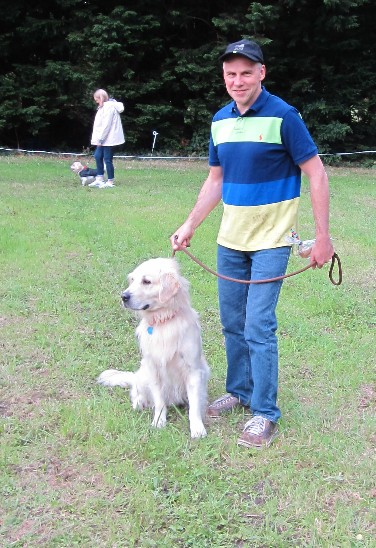 There was a great turn-out for the Dog Show. Among the winners were: Michael Shanahan (Best Small Breed), Donnchadh Colgan (Best Large Breed), Cillian Flynn (Best Golden Oldie), Keeva O'Shea (Best Puppy), James Moloney (Best Gun/Working Dog), Rian Harvey (Best Mixed/Cross Breed), Deirdre McGlynchey (Waggiest Tail), Donnacha O'Brien, Toni Bradshaw (Best Junior Handler), Alice Keogh (Best Trick), Margaret Carey (Dog Most Like Owner). Best Overall: Toni Bradshaw
The Bally Boys regained the Tug-O-War crown after losing out last year. Their team (Jacko Coffey, Mark Fitzgerald, Gearóid Fitzgerald, Noel Stokes, Martin Hough, Damien Ryan, Mike Coffey, Michael Hayes) out-pulled the Coopers in two straight pulls.
The Fittest Family contest was one of the highlights of the weekend. Some young participants displayed great stamina and endurance and some not-so-young showed that they still have a fleet turn of foot. Expectations at the end were that the Tobins who had won four of the events were winners, but they were eclipsed by Donal Moloney and Family who accumulated points in all events including five seconds and one first.
Raffle Winners: Dermot Nash, Margaret Hogan, Mary Floyd, Cecil Ryan, Thomas Byrne, Olga Whelton.
One man and his dog
July Newsletter
Birdhill Community Weekend
Keep up the good work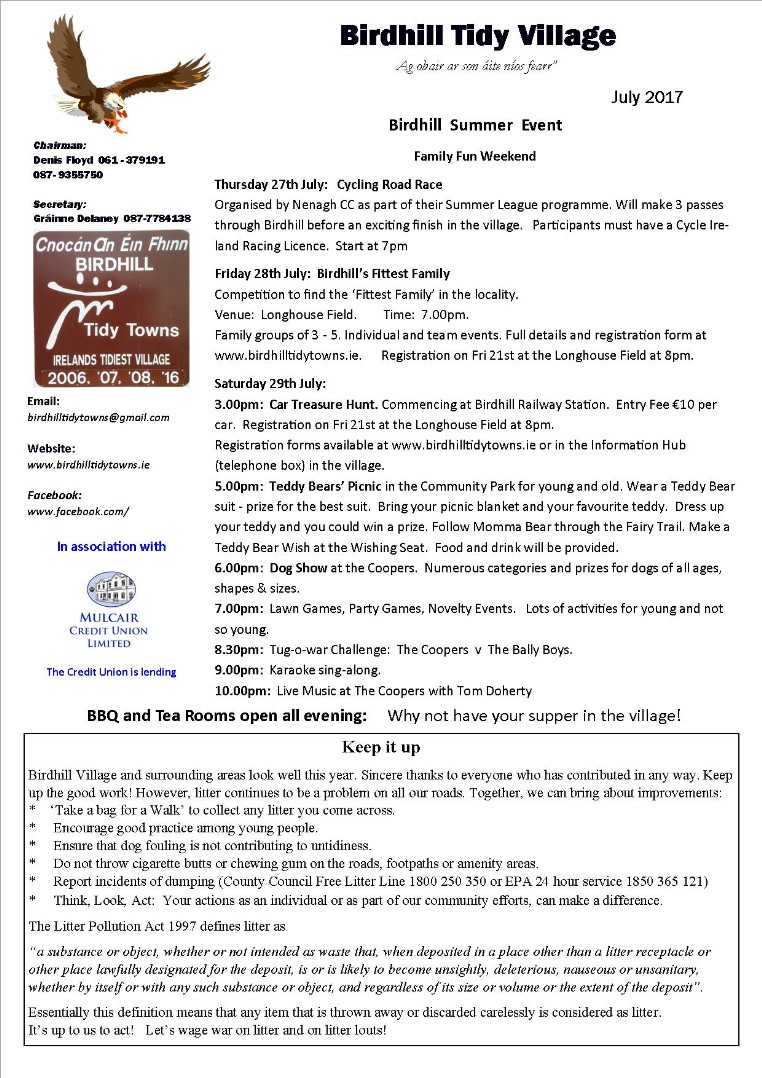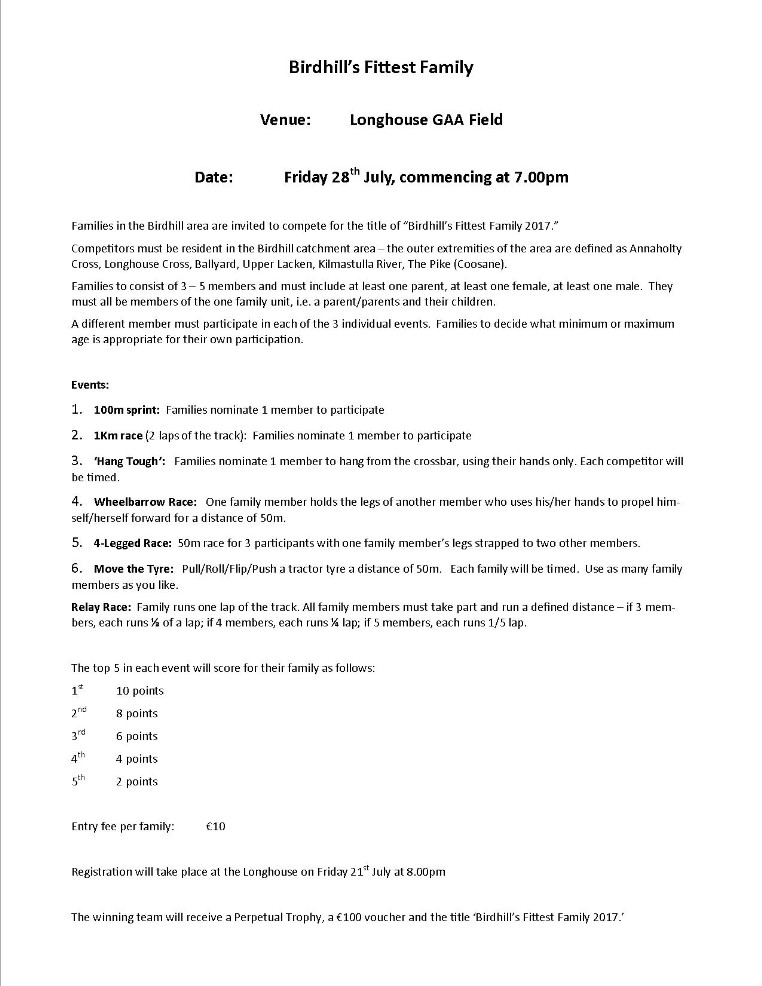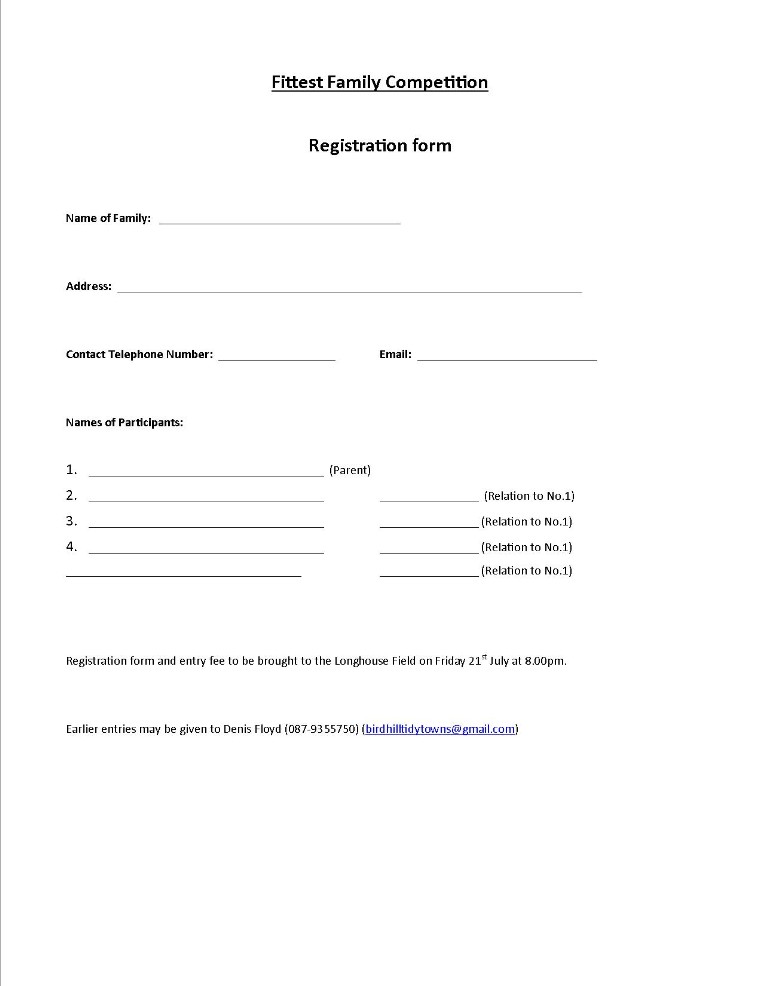 15th June
Art Trail
Our new Art & Architecture Trail, with accompanying leaflet, was launched last week. Anne Barry performed the official launching in front of representatives of Birdhill National School and Birdhill Tidy Towns. Well done to 10 year old Keeva who did the artwork for the cover of the leaflet. The trail takes one from Birdhill Roundabout to the School with most of the listed 22 stations located in the village and community park
The formal raising of the Tidy Towns flag for 2017, by members of the Junior Tidy Towns committee, followed in the Village Green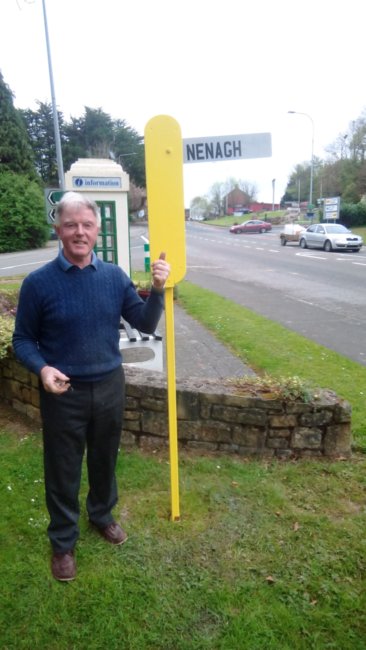 The Hitching Post
The idea for this travel initiative in Birdhill has its origins in the Tyrol region of Austria. There, too, people live in rural areas and public transport is sparse. However, many car owners were driving solo daily to go to work, do the shopping, visit friends, participate in sport etc. A growing network of locals decided to make changes on a small scale, get to know their neighbours better and make a small environmental impact.
Birdhill's participation in the initiative came about as a result of our invited involvement in Community Sustainability Co-Design event held jointly by the EPA & SEAI & run by TCD's Dr Vincent Carragher.
One of the participants, Kevin Dennehy had seen the 'Passenger Bench' (Mitfahrbank) in the Eifel region of Germany, an area typically made up of small villages a few miles apart. There are lots of examples online of the initiative so just google Mitfahrbank images & see its popularity.
Why Birdhill?
Taking neighbours with you or giving someone local a lift is a firm tradition in rural areas. Many of us remember hitching a lift from school or town and the offer of a lift was gratefully accepted. Today, many of us would like to help but also want to exercise care. So by publicising this facility locally, then older people, students, those without a car living locally can avail of hospitality and car owners can knowingly share their car space with others.
It is a win win:
Actively helping and not just talking
Making & renewing acquaintances
Reducing isolation
Protecting the environment
Optimising resources through car pooling
Being a positive example for other villages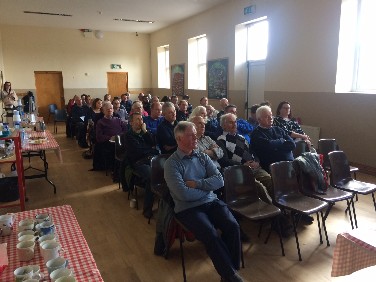 Trip To Tipp
Birdhill Energy Team, representing Energy Communities Tipperary Co-operative, hosted the Midwest Sustainable Energy Communities Showcase event & day trip tour at the Community Hall for all local organisations & community groups in the Midwest i.e. Tipperary, Limerick & Clare.
The purpose was to show results of energy savings projects in action and learn how these can be replicated in other areas such as the energy retrofitting work that took place on the Community Hall in 2015. Members of the Energy team spoke about Birdhill's energy journey over the last number of years and were available to answer questions. The event was very well attended and feedback was positive.
Other projects visited on the day were Templederry Community Wind Farm, Nenagh Swimming Pool operating on wood & solar energy and Community Renewable Energy Supply (CRES).
Sustainable Energy Authority of Ireland (SEAI), Tipperary Energy Agency (TEA) & Ballyhoura Development CLG organised and supported the event.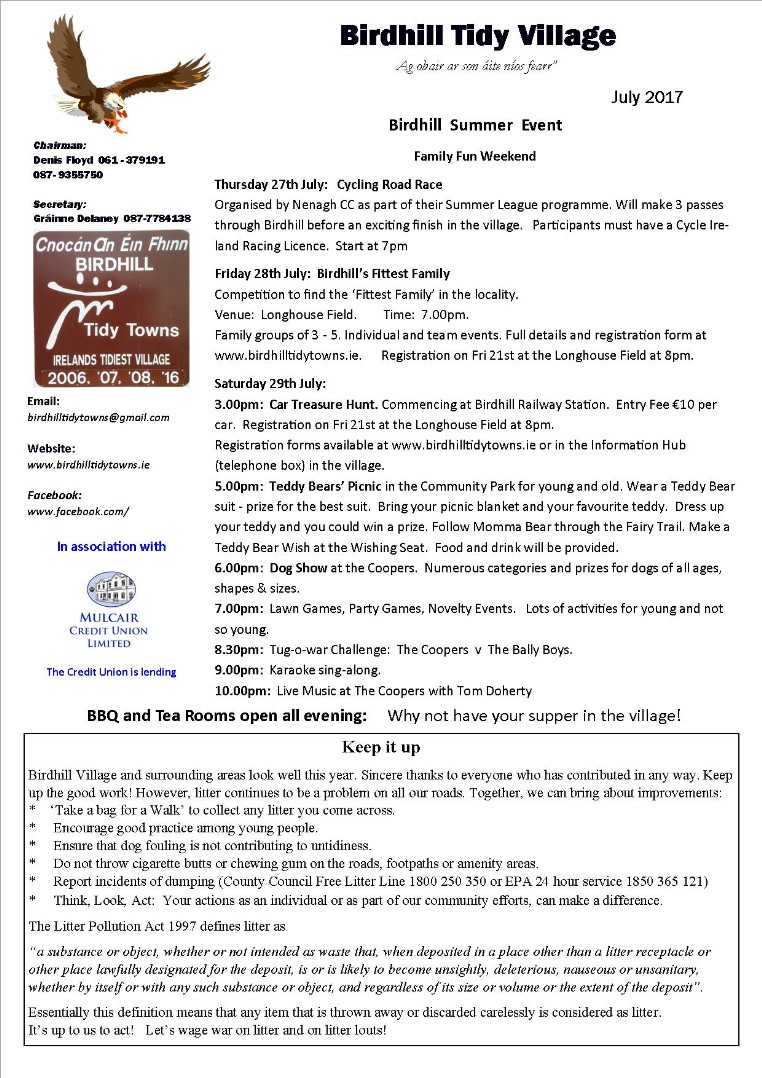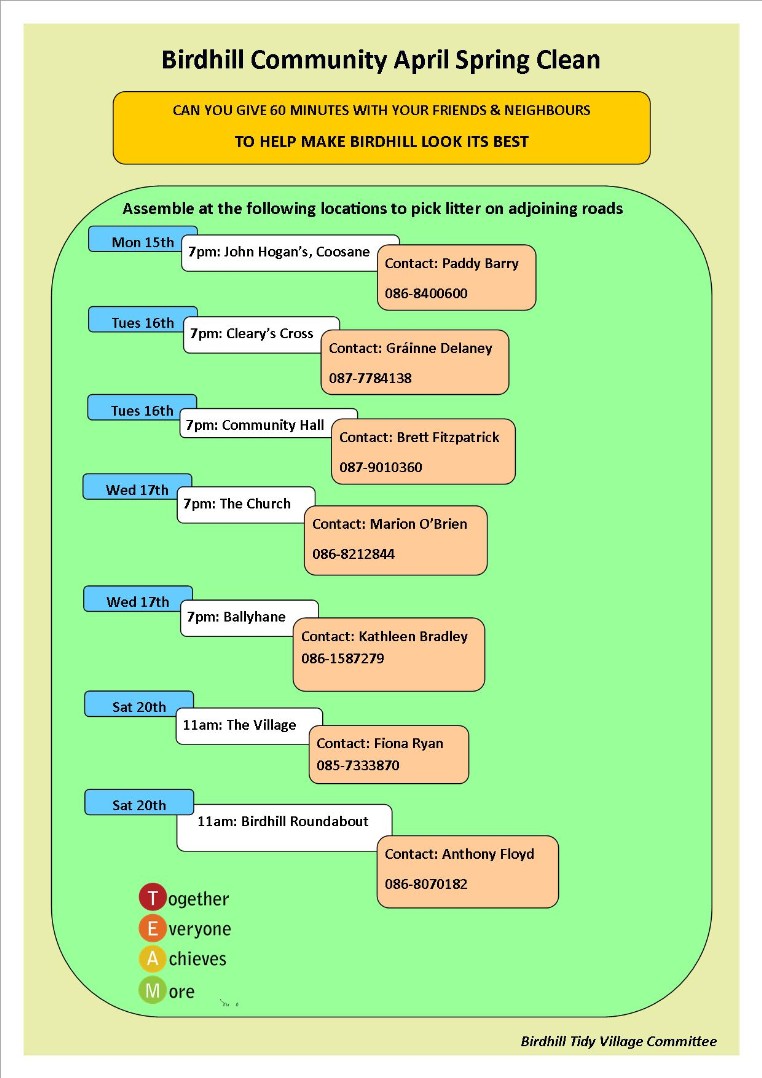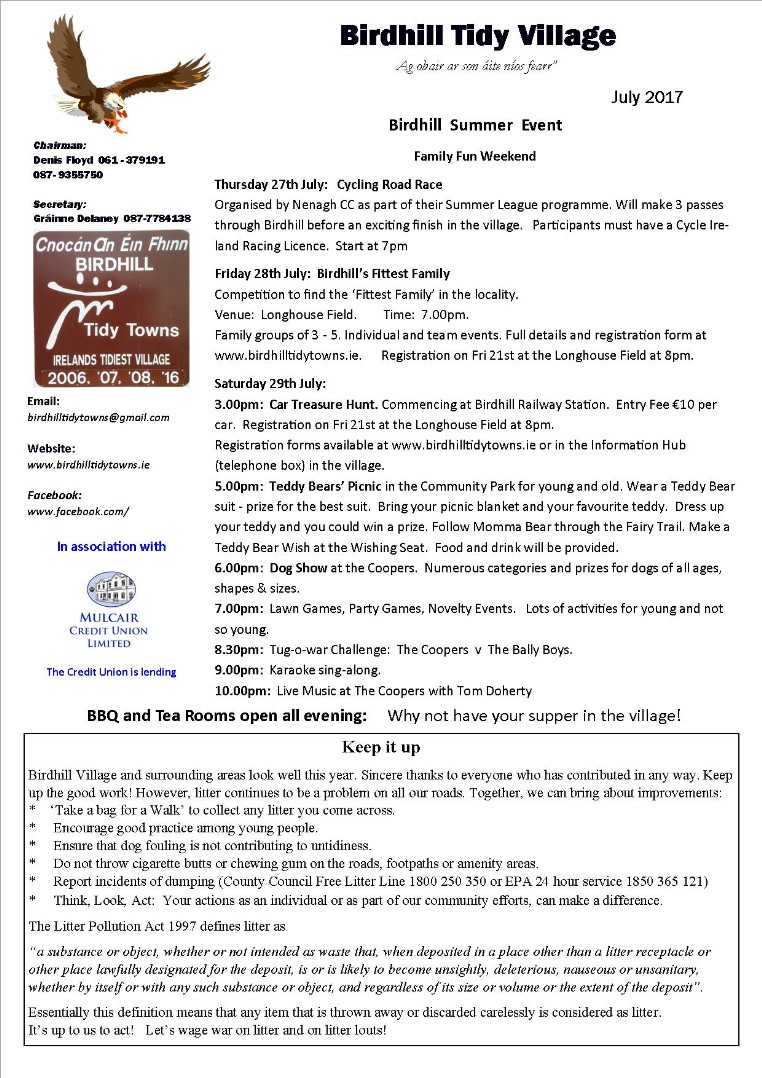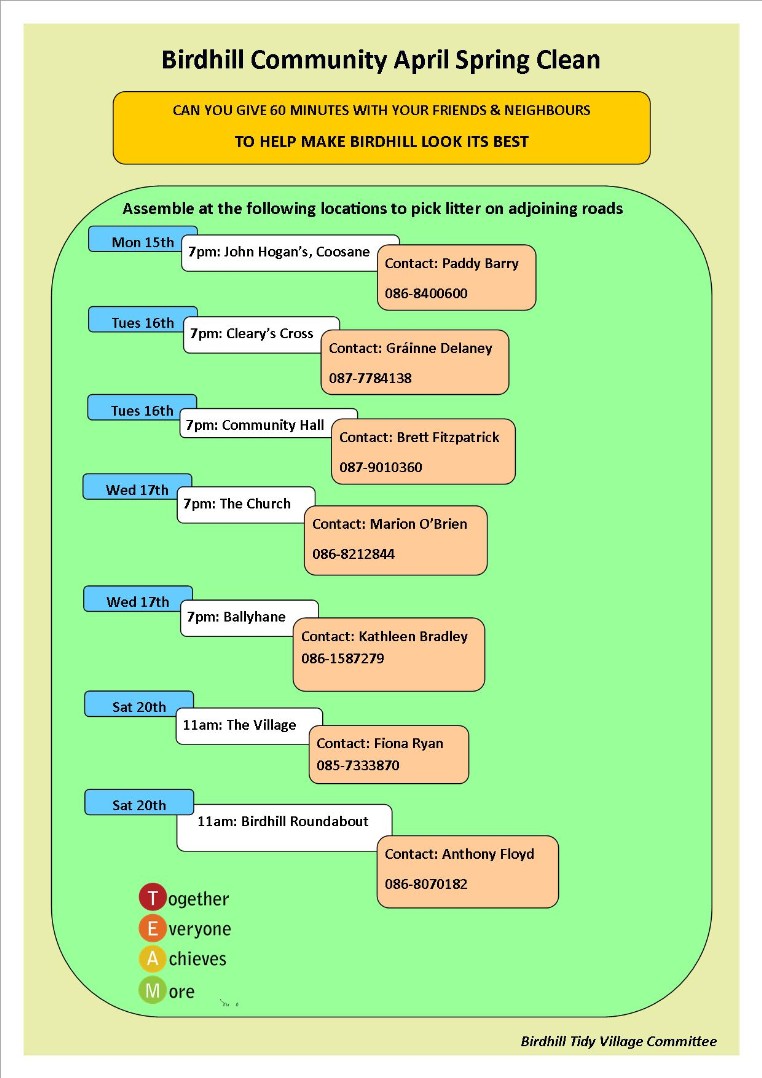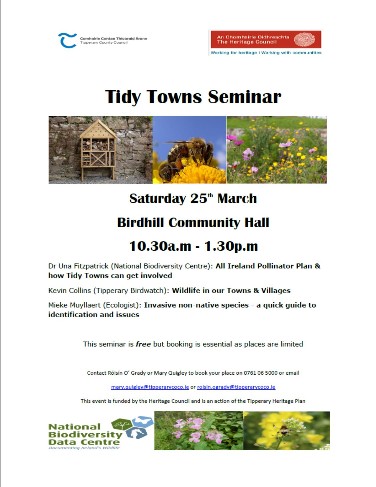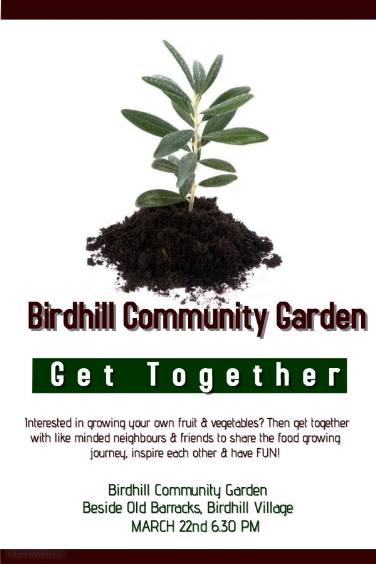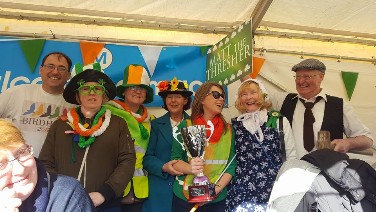 18th March
We had successful outings at the St Patrick's Parades in Newport and Ballina/Killaloe, winning prizes at both venues. See pictures in our photo gallery.
Work has commenced on the upgrading of the Recycling Banks at the rear of the Coopers. This should make it easier to maintain the surroundings and we appeal to all users again to refrain from leaving anything lying around beside the containers.
Work has also commenced on the installation of some Solar Lighting in the Community Park making it safer and more attractive for visitors at all times during the day or night.
Facilities for a small Outdoor Library have been added to the Information Hub (telephone box) in the village. The stock of books will obviously be small and we are asking community members to donate some books to get us started. "Take a Book; Leave a Book" is the slogan in use.
An updated Birdhill Information leaflet will be available shortly. This should be a useful guide to visitors. Copies of the old version should now be discarded.
The pupils of Birdhill N.S have been busy in resent months on environmental projects. Their Junior Tidy Towns group has compiled a Pollinator Plan; they have made and decorated a number of bird boxes which will be used as part of a trail in the Park; they have produced an "Art & Architecture" leaflet highlighting some of the artistic features around Birdhill; their 'fashion show' of recycled materials was another great success this year. Members of the Tidy Towns committee also visited the school to carry out some science experiments and demonstrations.
Forthcoming Dates to Note
Friday 20th January at 8.00pm: An Information evening in Birdhill Community Hall on the 2017 Community Energy Scheme covering: How to reduce your heating and lighting costs; Application process involved; Grant Assistance available (35% for households, farmers & businesses; 50% for Community facilities & 80% for households receiving fuel allowance, family income supplement and or job seekers (the latter in certain circumstances); Attic & wall Insulation, boilers, stoves, zoned heating, solar, windows & external doors. Meet with your neighbours who participated last year & local experts in order to get answers to your queries.
Sunday 22nd January: Walk in The Pollaghs with Albert Nolan. What's to be seen in Nature during the winter? Look at options for a Biodiversity/Eco Trail. Enjoy the crisp January weather. Assemble at the Railway Station at 2.00pm
Sunday 29th January: How to prune Apple Trees! Looking out for disease in fruit trees! Learn about the value of trees in our environment. Meet Paddy Keane for an interesting and informative afternoon. Assemble at Birdhill Community Park at 2.00pm.
Monday 30th January: Presentation of Birdhill National School's Pollinator Plan. All are welcome to our local school at 7.30pm to hear the children's ideas on how we can help bees and insects in our environment. (See attached leaflet)
Sunday 5th February: Sale of Work in Birdhill Community Hall, commencing at 2.00pm. Pick up a bargain and support Birdhill Tidy Village Committee's environmental and community work.
13th January
We appeal to local residents to donate items which can be sold, auctioned or used for the Wheel of Fortune at our Sale of Work.
Members of the committee will be contacting householders in the coming weeks to discuss how you can help.
We would welcome items such as household goods, farm goods, fuel, books, groceries, tools/implements, home baking, vegetables, furniture unused toys, drink, boxes of biscuits or chocolates, electrical items, cosmetics, jewellery, house/garden plants, etc.
No magazines or clothes please. We ask that only items with a saleable value and in working order are given.
If you wish, you can drop items to the Community Hall on Saturday 4thy between 11.00am and 12 noon.
Home baking should be dropped off at 11.00am on Sunday morning.
Many thanks for your continued support.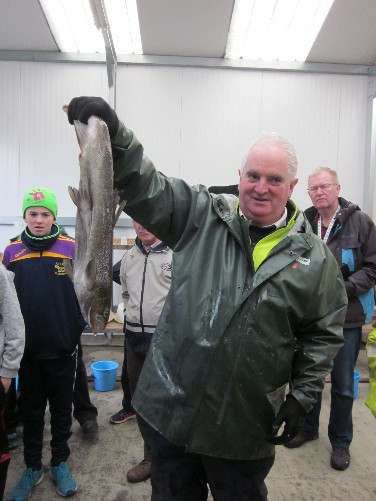 5th January
We had a very interesting visit recently to the local Fish Hatcheries to mark the beginning of the ESB's 90th anniversary. Young and old were intrigued by the life story of the salmon, how the eggs are harvested and fertilised and how the smolts are raised. We saw how the fish pass operates on the river and the role of the weir in controlling the flow of water into Ardnacrusha.
We hope to arrange a visit to Ardnacrusha later.
We also intend to highlight the role of the ESB during the year, particularly the significance of the Shannon Scheme in our area.