OUR SONGS
The Newport and Birdhill areas have a great tradition of song-writing and ballad-making.
Read some of the songs about our locality.
Sweet Birdhill
(Written by Paddy O'Riordan. Recorded by Sean Boland in 1998)
My native place Birdhill
A number of songs were written for a special competition run in conjunction with the celebration of 150th anniversary of Birdhill Railway Station in 2010
The winning song, "My Native Place Birdhill" was penned by Johnny Mulcahy and sung by Eileen Briscoe.
MY HOME IN SWEET BIRDHILL
(By Mary Ryan 2010)
Adieu to all in Sweet Birdhill from you I now must part
To leave my family and my friends the thought near breaks my heart
To catch the train then board a plane from the station I'll take my leave
And I'll drink a sup in Thrashers Snug to ease my heartfelt grief
Last night I walked the fields near home from Lacken up to Cooleen
I dipped my feet in waters clear from Glosh's winding stream
Retracing footsteps from the past up Twiss's Hill and there
I watched the golden sun set down behind the hills of Clare
I gazed upwards to Carrigeen and thought of stories told
Of battles fought between a bird and Oisin brave and bold
That bird majestic strong and white sure it gave Birdhill its name
Is remembered now by sculpture bright for prosperity and fame
I walked along by Clearys Cross then down by the Chapil Hill
I knelt to pray in the lonely graveyard where my ancestors they lie still
The Chapel door being open I sat down and cried my fill
When I thought that I must leave behind my home in Sweet Birdhill
I made my way towards Ballyhane as the dark night on me fell
The silver stars were shining bright as I bid Coosane farewell
Then up on past the village hall where the moon shone all around
And the memories came crowding back when I stood in my old school ground.
Oh remember walking home from school when our Class work it was done
Adventure called with every step for devilment and fun
We'd hop the ditch and barefoot through the fields we'd run along
While the bees were buzzing all around and the blackbird sang his song
And so last night when homeward bound I passed through the village neat
I quenched my thirst in Coopers pub with stout so rich and sweet
The chat was all on hurling and the matches still to play
While the night air filled my senses with the smell of the new mown hay.
There was talk about the motorway and its impact all around
Some saw it as great progress while some on it did frown
I bade them all a fond farewell and towards home I made my way
And I dreamt about returning to My Sweet Birdhill one day
LIVING IN BIRDHILL
(By Fr John O'Keeffe 2010)
I've found my thrill, living in Birdhill, living in Birdhill, I've found my thrill.
The quaint little church by the wayside, slip in for a moment, with God to abide.
The ever-expanding national school, when they raised the green flag, it was so cool.
Into Matt the Threshers, to meet Ted and Kay, where gastronomic food is served everyday.
The sweet-smelling flowers are in full bloom, oh the craic we have in the Coopers' pool room.
There's one other pub, Bolands of Ballyhane, where the Tayto Club is its claim to fame.
A stroll round Browsers furniture store, our sporting heroes have won medals galore.
A walk in the garden, gaze at Keeper's Hill, stop at the fountain, stare at the Clare Hills.
The turning on of the Christmas Tree lights, these are just some of the delights.
The hall with its dancing, concerts and cards, music lessons and sessions, singers and bards.
Our village will be by-passed by a new motorway, but it's not open yet, because the bog gave way.
Our award-winning village, the pride of North Tipp, living here is cool, it's really hip.
We admire the murals on the old creamery, as we celebrate the Railways One Fifty.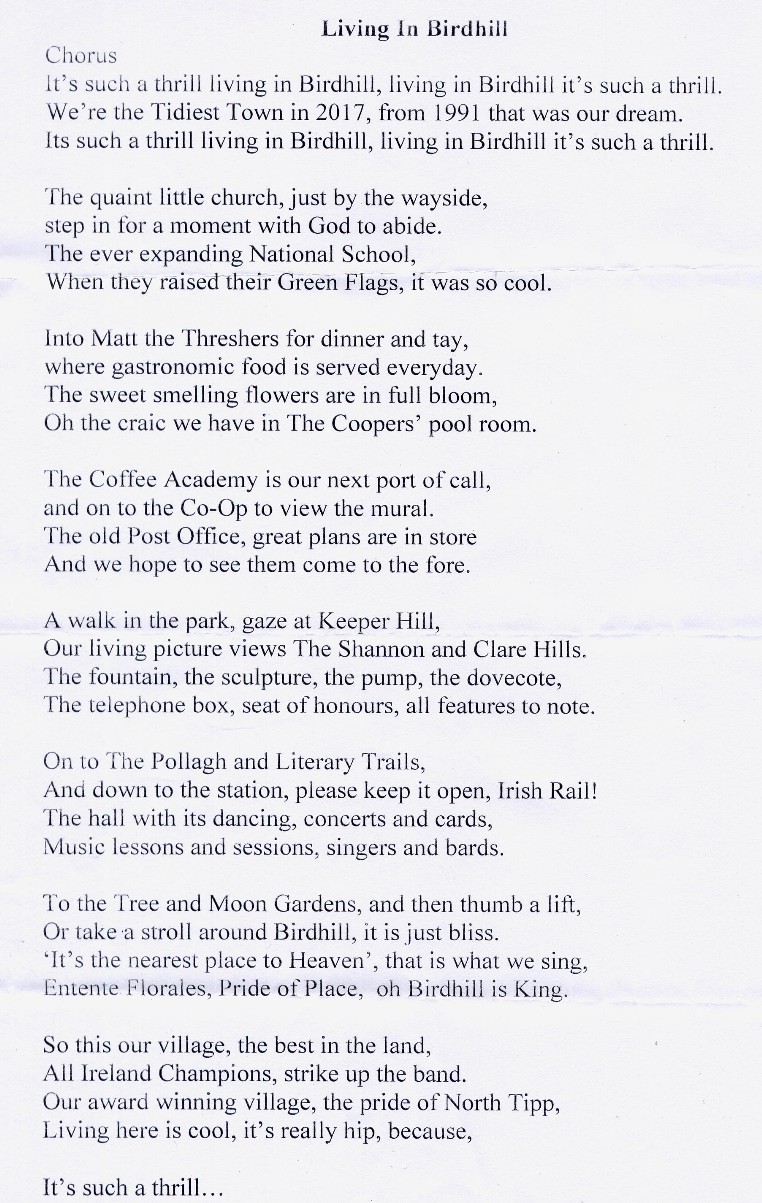 A BIRDHILL RAMBLE
Pa Floyd 23 July 2010
My Love and I went for a stroll
Down Coolnadornory lane
Heading towards the Shannon River
It was calling out our name
On either side of this boreen
Green hedgerows were in bloom
Intertwined with briar and woodbine
It smelled of sweet perfume.
My love and I went through a field
Where grass grew lush and green
Some cattle grazed there peacefully
Our presence was serene
A pheasant rose into the sky
When a fox ran towards the ditch
We were at one with nature
On this lovely emerald pitch
My love and I sat on the bank
And gazed at the Lower Lake
With the Clare Hills on the other side
Its beauty our breath did take
We stayed a while at this lovely spot
As two swans swam idly by
To disturb such a tranquil scene
Would bring a tear to your eye
My love and I were homeward bound
As we came up the Pollagh Trail
With the "sally" blowing gently
The wind was in our sail
Looking up we could see the hill
Where lies the rock at Carrigeen
And Twiss's ruins on the other side
Where this Lord once reigned supreme
My love and I we stopped a while
At the Railway Station bridge
The old cut stone with ivy overgrown'
On every nook and ledge
The stationmaster he waved to us
From way down on the track
He was waiting for the final train
From Dublin it was coming back
My love and I sat down to dine
At Matt the Threshers place
Where we feasted on fine food and wine
Our hunger was left no space
Then across to Coopers Bar
More drink to "go down the hatch"
There was an air of celebration
As Newport had won the match
My love and I knelt down to pray
To our Lady of the Wayside
Where we thought about the friends we met
And relations that had died
Tonight we'd have to pack our bags
For the plane it leaves at dawn
Back to our home in America
Little Rock, Arkansas.
BIRDHILL
Bobby Fletcher – (the "Seamus 'Poet' Heaney" of Bally!!!  2010)
Twas a quiet summer's day
and my thoughts did stray
to earth so green and fields of hay.
I dared not try to keep them still
till I reached the end of the line, and sweet Birdhill
Now there's a place I love to see
It's homely touch means much to me
Matts, the Coopers, gardens galore
That glimpse of the Shannon as it wanders o'er
All things bright and shiny too
from the creamery cans to the sign for Killaloe
Where on earth would you find such a place,
A kinder folk, a gentler race
Than those who call, and always will, – their earthly home – sweet Birdhill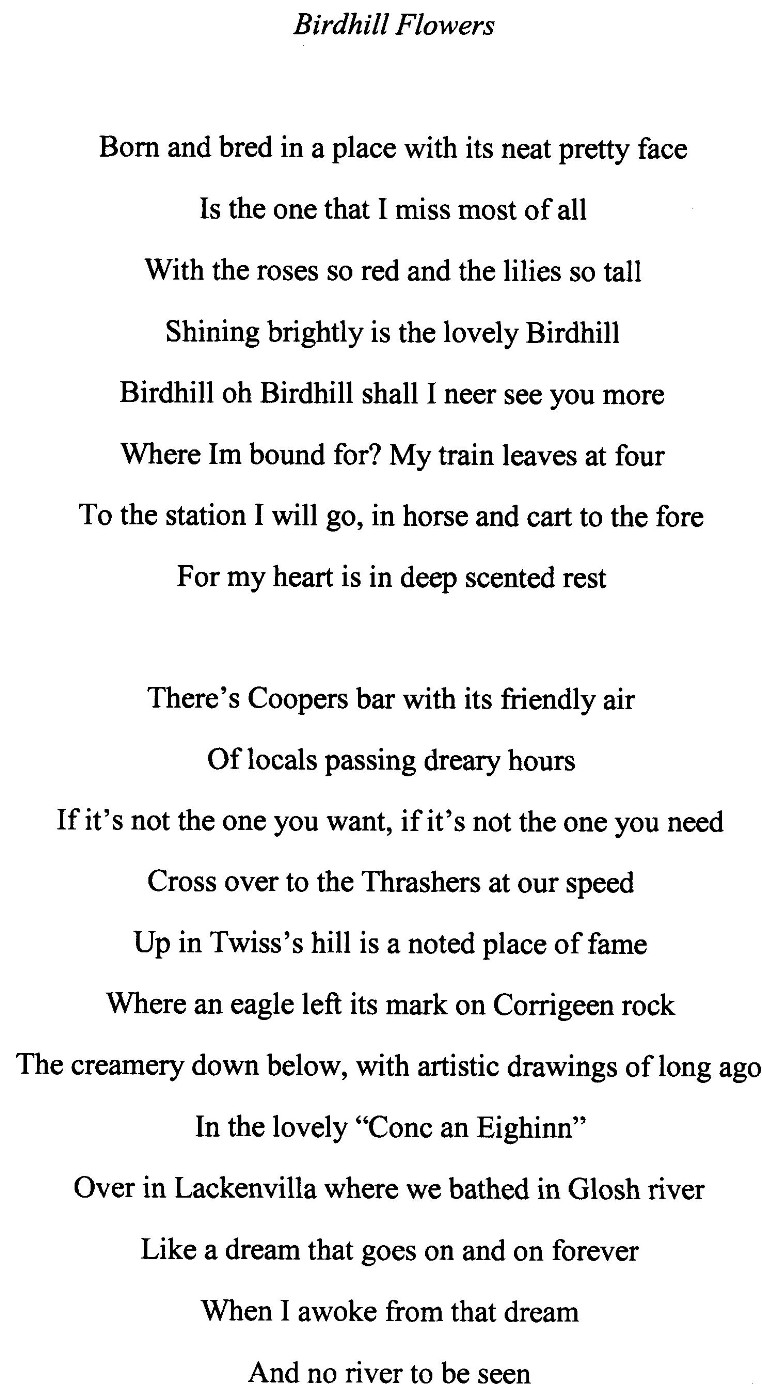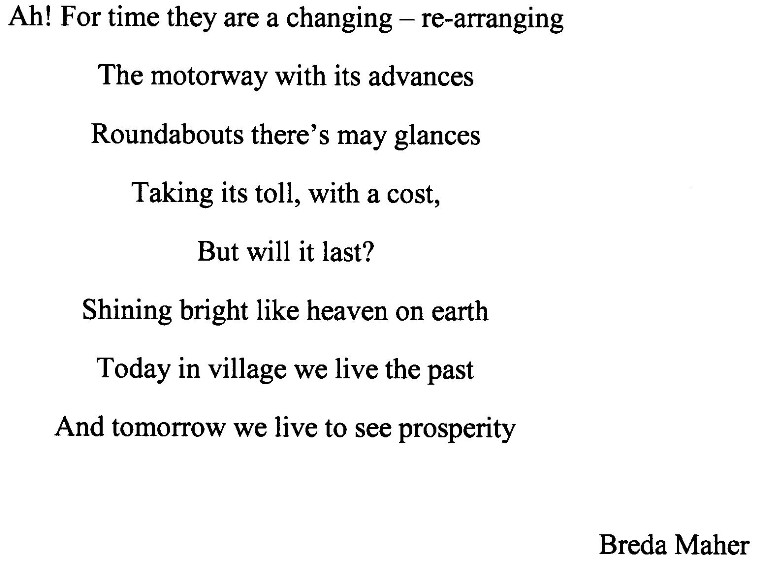 THE VILLAGE OF BIRDHILL
(Written by Michael Collins 1990)
How oft my thoughts return to the scenes around my home,
The wooded groves and hillside paths where I was wont to roam,
The low-lying plains and bogland where the sweet birds sing their fill,
'Ere the purple shades of twilight fall on the village of Birdhill.
.
From the ancient rock of Carrigeen you can view the country wide,
From Ormond on to Thomond by storied Shannonside,
Serene Lough Derg and Scarriff Bay, their beauty haunts me still,
And the heathered slopes of Arra, towering high beyond Birdhill.
.
The dying smile of sunset in the soothing evening air,
Fades behind Slieve Bernagh and sinks down the hills of Clare;
The softening shadows creeping down the vale from Keeper Hill
Spread the balmy peace of nightfall o'er the village of Birdhill.
.
I can see again the hillside so steeped in tales of lore
Where Oisín of the Fianna came back in days of yore,
And grappled with the great rock, then took a sudden spill;
He lies buried with his trumpet 'neath the stone above Birdhill.
.
The Castle of Cragg-Owney, once the fortress of the Ryans,
Its ivied walls and transoms in ruined splendour lies.
The regal gates of Shannon Lodge, though blemished, standing still,
Recall the Ormsby stronghold near the village of Birdhill.
.
The Holy Well of Commenath in the dusk a vision calls,
And the ghostly tread of footsteps echo round the churchyard walls.
No more they file along the path, to cross the little rill,
It's a custom long forgotten near the village of Birdhill.
.
Oh dull the ache that's in my heart as fondly I recall
Annaholty, Ballyhane, Coosane and Fairyhall
Touknockane and sweet Cooleen, its old schoolhouse without frill,
Where we played in happy childhood near the village of Birdhill.
.
I bid farewell to Ballyard, Coolederry and Lacknavea,,
To the Red Bog up in Cregough where I spent many a day.
Ah, lonely is the exile's lot, his life a bitter fill,
When he knows that he will see no more, the village of Birdhill.
CNOCÁN AN ÉIN FHINN
(Scríofa ag Eileen Briscoe 1992)
Nach aoibhinn an radharc ó Charraig Charraigín,
Ag féachaint mórthimpeall nach álainn an tír;
Tá an tSionnain ag gluaiseacht chun na farraige siar,
Is tá fuiseoigín go hard sa spéir i gCnocán an Éin Fhinn.
Tá an traein anois tagtha isteach sa stáisiún
Ag taisteal go Luimneach ó Aonach Urmhumhan.
Tá na caoirigh ag scríobhadh ar bhruach na habhann binn
Is na fir ag baint na móna i gCnocán an Éin Fhinn.
Bhí Oisín ins an áit seo na céadta bliain ó shin,
'S do sheinn sé ar an trumpa 's do labhair sé 'Gaeling'
Ach anois tá se 'na chodladh sámh faoi charraig Charraigín,
Is tá síocháin is suaimhneas i gCnocán an Éin Fhinn.
Féach siar ar Shliabh Coimeálta, tá an áit seo faoi dhraíocht,
Ta grian an tráthnóna ag soilsiú go binn;
Ta na srutháin lonrach' ag fánaíocht síos,
'S nach iontach bheith in Éirinn 's i gCnocán an Éin Fhinn.
Tá mo chroí istigh ag briseadh mar caithfidh mé dul thar lear;
Tá an Astráil i bhfad i gcéin ach sin í an tír is fearr;
Níl obair dom in Éirinn is tá mé gan phingin,
Ach le cúnamh De beidh mé ar ais i gCnocán an Éin Fhinn.