22nd September
Accounts
The financial year for Birdhill Tidy Towns closes at the end of September.  Any outstanding bills should be submitted next week to ensure payment before the books are closed.  Our AGM will be held in the forthcoming weeks.
Coffee Morning
Join us on this Sunday morning for a chat and a Cup of Coffee in Birdhill Community Hall at 10.30am.  Buy some home baking and support  Milford Hospice.
SDG WEEK
The 2030 Agenda for Sustainable Development is a set of international development goals from 2016 to 2030. The Sustainable Development Goals (SDGs) aim to transform our world. They are a call to action to end poverty and inequality, protect the planet and ensure that all people enjoy health, justice and prosperity. SDG week is part of the wider European Sustainable Development Week (ESDW), which this year, will be held from 18th September to 8th October. Look for events and activities that highlight promote sustainable development.
.
Gardening Course
Tipperary County Council are delighted to announce a FREE Sustainable Gardening Course to celebrate SDG Week. This course will be run by horticulturist and environmentalist, Aoife Munn and will cover many topics including:
New thinking in planting plans
Pond Building
Working with peat free compost
Pruning
Grow your own vegetables
Taking cuttings and much more…
The course will be run on Saturday 7th October from 10am to 4pm in Cabragh Wetlands, Holycross, Thurles E41 T266
A light lunch will be provided for on the day. For more information or to book your place (spaces are limited so early booking is advised) please click the link below.
https://www.eventbrite.ie/e/sustainable-gardening-course-tipperary-tickets-722661087767?aff=oddtdtcreator
                                                                                                  _________________________________
19th August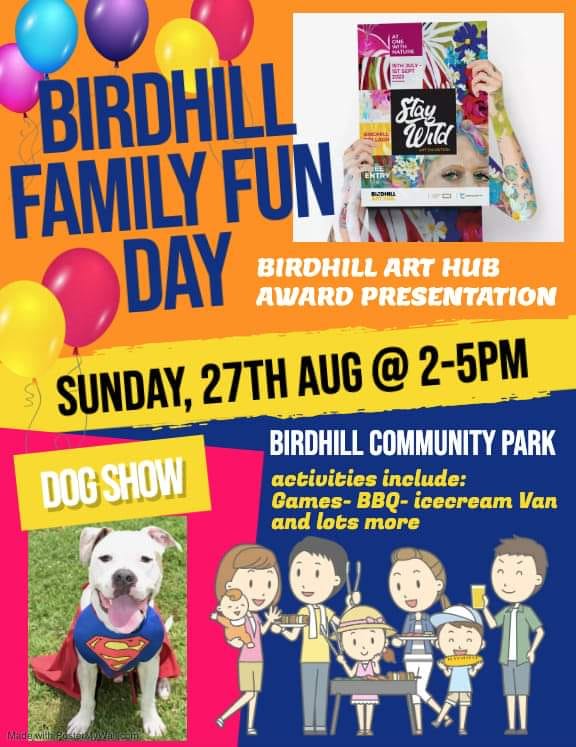 Family Fun Day
Don't miss our Family Fun Day in Birdhill Community Park on Sunday 27th August from 2.00 to 5.00pm.  Fun & Games, BBQ, Ice Cream, Dog Show – there will be something for all ages. Presentation of awards for the Art Exhibition will take place at 4.00pm.
Dog Show categories include Best Small Dog, Best Medium-sized Dog, Best Large Dog, Best Puppy (0-1 year), Best Golden Oldie (8 years+), Best Groomed Dog, Best Junior Handler (Under 12), Best Rescue Dog, Best Dressed Dog, Waggiest Tail, Best in Show Champion Dog of Birdhill 2023.
Litter Pick Week
To raise awareness of the blight of roadside litter, Tipperary County Council is running a litter pick week from the 21st to the 27th August.
Why not rally your neighbours and friends and work together to help keep Tipp and Birdhill Litter Free in '23.
Solving the county's litter problem is not easy. The campaign is urging everyone to take personal responsibility for disposing of their litter correctly to "Keep Tipp Litter Free" and to protect our environment for now and for future generations.
We are seeing more and more indiscriminate dumping of litter on the approach roads to our towns and villages. This is not what we want visitors to be greeted with when they visit to our beautiful County.  Not alone is this creating a poor impression, but litter has a detrimental effect on our environment and public health. We all have a part to play in keeping Tipp Tidy."
_______________________________________________
29th July
Art in The Pollaghs
Be sure to visit the Pollagh Trail in Birdhill to see the amazing exhibition of artwork which will continue to be on display until the end of August. From paintings by professional artists, beginners, children, teenagers and school groups, there is a wide variety of creativity. Take time to study the 50 presentations, while enjoying the 2.4km walk in peaceful surroundings rich in biodiversity. Follow Birdhill Art Hub on Facebook for full details.
Appreciate Our Heritage
Heritage Week takes place from the 12th – 20th August 2023.  National Heritage Week is a nine-day celebration of Ireland's natural, built and cultural heritage. The main aim of the week is to promote awareness of our heritage, thereby encouraging its conservation and preservation.  This year's theme also invites us to explore the traditions and practices, knowledge and skills passed down through generations. See further details at   https://www.heritageweek.ie/
Have Your Say
1.  Tipperary County Council are advising that a Draft Litter Management Plan 2024 – 2026 has been prepared and is now available for public inspection. More details are available at the following link:  https://consultations.tipperarycoco.ie/consultations/draft-litter-management-plan-2024-2026-public-consultatio
Submissions and observations on the proposed Draft Plan are invited from members of the public and from voluntary and representative bodies and such submissions will be taken into consideration before the Draft Plan is adopted or implemented.  The deadline for receipt of submissions is 4.30pm on 28th August 2023.
2. Tipperary County Council are in the process of developing the next Tipperary Local Economic and Community Plan 2023-2028 (LECP). You can use your views to influence the development of the LECP through the online portal and help shape the LECP before Friday 4th August:  https://www.tipperarycoco.ie/community/community/community-latest-news/2023/have-your-say-local-economic-community-plan-survey
Contact Ruth (087 456 7111) to chat more, if you want to, about this important county policy development
3.  The Climate Conversation 2023 is now open. People across the country are invited to have their say on how we can all play our part in securing our sustainable future. Government, communities, industry and individuals each have a part to play to help Ireland shift to a carbon-neutral future.  An online questionnaire is now open where people can give their views on shopping, reuse and recycling, food and food waste, heating our homes and sustainable living, local environment and climate change. People can also have their say on how actions in these areas – by individuals, Government and society as a whole – can positively impact our climate goals.  Join the Climate Conversation 2023 by filling in the online questionnaire .  You don't need to be a climate expert for your opinion to be valued, we want to hear from as many people across the country as possible. The closing date for submissions is 5.30pm on Friday, 8 September 2023
For more information visit gov.ie – Climate Conversations 2023 (www.gov.ie) 
Newsletters
Tipperary Arts Office Newsletter July 2023:  https://drive.google.com/drive/u/3/folders/18IXSQb2FMkOaZFHtWSHP3Fx304Hk3Cd_
Farming for Nature Newsletter Summer 2023:  Newsletters 2023 – Google Drive
___________________________________________________
5th July
Passing of President

We were saddened to receive the unexpected news of the passing of Ted Moynihan, formerly of Matt The Threshers. Current Hon President and former Chairman of Birdhill Tidy Towns, Ted made an enormous contribution to Birdhill and to the community. Since his arrival in Birdhill in 1987, he built a thriving business which was popular with locals and visitors alike. During his 10 year stint as Chairman of Birdhill Tidy Towns, he made a significant financial contribution and guided the committee to success not only in local circles, but also on the national and international stages, being at the helm for 3 awards as Ireland's Tidiest Village and a Gold Medal in the European Entente Florale competition. His premises were always at our disposal for meetings and functions, with refreshments ever in abundance. We thank him for his guidance and generosity. We will miss his enthusiasm, interest and advice. Farewell, 'friend.'  Go raibh leaba i measc na naomh agat.
Ted' funeral cortege will pass through Birdhill at 4.30pm today (Wednesday) on its way to his home. We would like to see as many as possible, joining the staff of Matt The Threshers, standing on the roadside as a mark of respect.
We will form a Guard of Honour to accompany Ted on his final journey to Lisbunny Graveyard on Friday. We ask as many as possible to assemble in Nenagh on the Dublin Road just past the turn off for Cloughjordan at 12.00 noon. There is plenty of room for parking on the hard shoulder and we will walk the few hundred metres to the Graveyard. Please wear high viz with Birdhill Tidy Towns or SuperValu Tidy Towns logo.  We have spares if required.
__________________________________
3rd July
Newsletter
Click here to read Issue 4 of the National Tidy Towns Newsletter
Ecosystem Restoration for Community Groups
Síolta Chroí will run an important course exploring how individuals and community groups can play a part to mitigate climate change and biodiversity loss by creating systems that sequester carbon, builds biodiversity and restores the ecosystem that you are part.  The course will mix theory with practical hands on work. It will give participants the knowledge and inspiration to transform the community space that you work with.
In this course we will learn
Ecosystem restoration
Soil building and natural cycles
Introduction to Permaculture design
Building biodiversity
Creating resilient and regenerative edible landscapes
Creating Acks (Acts of Restorative kindness)
Who is this course for?
This course is for people involved in community groups that have access or look after pieces of land. Examples might be a Tidy Town group, a GAA club and housing co-op or any other group that wants to learn new skills around land management.
For more information and to book your place visit Ecosystem Restoration for community groups – 26th and 27th August – Síolta Chroí (sioltachroi.ie)
Have your say: Local Economic Community Plan Survey
Tipperary County Council is preparing a new Local Economic & Community Plan (LECP) for the period 2023-2028.  They invite you to have your say on the future sustainable economic and community development of the county over the next five years.

Public Consultation
As part of the first step to inform our new plan, Tipperary County Council have prepared a draft Socio-Economic Statement. This document sets out the purpose of the LECP, the policy context that it is framed within, and provides key highlights on the socio-economic profile of Tipperary.Importantly, the Socio-Economic Statement provides a draft vision statement for the new LECP. To successfully attain this vision over the coming years, we have set ourselves a draft series of environmentally sustainable and progressive socio-economic high-level goals. To inform the next LECP for the county, we want you to share with us your vision for Tipperary and provide feedback on our proposed goals to help us establish the key outcomes we will deliver across the key themes of climate action, community and local development, economic development, and health and wellbeing.

You can complete a citizen survey by clicking here. This survey will take approximately 10-15 minutes to complete and will closed by July 14th 2023

Alternatively, written submissions may be posted to the following address: LECP Consultation, Community Section, Ballingarrane Tipperary County Council, Tipperary. If you have any queries about this survey, please contact a member of the team at lcdc@tipperarycoco.ie

For more information visit https://www.tipperarycoco.ie/community/community/community-latest-news/2023/have-your-say-local-economic-community-plan-survey
________________________________________
19th June
Newsletter
Read the latest issue of the National Tidy Towns Newsletter:  Issue 3
Tidy Towns Adjudication
Adjudication season is now in full swing. We appeal for the cooperation of all members of the community in ensuring that Birdhill looks well this summer. Please help in picking litter on the roadsides and keeping your area tidy. Thanks to all those who continue to come out regularly to tend to the ongoing chores. A special thanks to those who helped with watering during the recent dry spell.
Art Exhibition
Final preparations are now being made for the Open Air Art Exhibition in the Pollaghs. The entries will be on display from 15th July. Admire the wonderful artistic talent and appreciate the wonders of nature while enjoying a stroll along a quiet and peaceful trail.
____________________________________________
22nd May
Biodiversity Week
This week is designated Biodiversity Week (19th to the 28th May).  National Biodiversity Week presents an opportunity for the public to learn more about the organisations working in their local area to reverse biodiversity loss and conserve nature. Please visit https://biodiversityweek.ie/ for information on events taking place around Tipperary and nationwide.
Sustainable Gardening Course
Tipperary County Council will host a FREE Sustainable Gardening Course to celebrate National Biodiversity Week. This course will be run by horticulturist and environmentalist, Aoife Munn and will cover many topics including:
New thinking in planting plans
Pond Building
Working with peat free compost
Pruning
Grow your own vegetables
Taking cuttings and much more…
The course will take place on Sunday 28th of May from 10am to 4pm in Cabragh Wetlands, Thurles.
The course is suitable for anyone who wants to improve their area for biodiversity but is particularly of interest to Tidy Towns Groups, Residents groups and Green Schools Coordinators. Places are limited, with registration through this link  https://www.eventbrite.ie/e/sustainable-gardening-course-sponsored-by-tipperary-county-council-tickets-627986854587
Heritage Newsletter
Click here to read Tipperary County Council's Heritage Office newsletter   for May
                                                                               _______________________________________
1st May
Art Exhibition
The closing date to express an interest in participating in the annual Open Air Art Exhibition is drawing near. Artists wishing to join the 'STAY WILD' exhibition should do so by 6th May.
For further info contact Melissa Birdhillarthub@gmail.com
Work
2023 marks the 65th anniversary of the annual Tidy Towns competition. The next few weeks will be busy, as we prepare for adjudication.  Washing, cleaning, sweeping, painting, planting, weeding, etc. are among the chores to be carried out. Can you help? Can you commit to a weekly task or could you help with a one-off job? Volunteers are urgently needed. There is a task to suit everyone. Please contact any member of the committee if you can help.
Sun Smart
The HSE's NCCP in collaboration with Healthy Ireland have launched the Get SunSmart Children's Art Competition. The competition is open to all primary school children and depending on their age category, are invited to complete the SunSmart colouring sheets or draw their own picture showing how to be SunSmart. There are three age categories with a prize for the winner in each category. The three age categories are: (a). junior infants to 1st class; (b) 2nd to 4th class; (c) 5th and 6th class. The competition is designed to help educate young people about the importance of protecting your skin while enjoying time outdoors. Children and young people are particularly vulnerable to the damaging effects of the sun's ultraviolet (UV) rays. The competition runs until 17.00 on 31 May, 2023.
For details of the competition rules as well as instructions on how to enter, see the competition webpage at www.gov.ie/getsunsmart
___________________________________________
4th April
Easter Ceremonies
Stations of the Cross in Birdhill Community Park on Good Friday at 7pm.
Dawn Mass in Birdhill Community Park on Easter Sunday at 6.30am.
.
Defibrillator Training
Training on the use of an Automated External Defibrillator will be held in Birdhill Community Hall on Sat 8th April from 1.30 to 2.30pm. An AED is a vital life-saving tool in the case of cardiac arrest. There are 2 defibrillators in our locality which can be accessed in an emergency – on the external wall of the Community Hall and at the Longhouse Field. Contact Margaret Hogan if interested in attending the training session.
.
Spring Clean
The annual Spring Clean in Birdhill begins on Sat 15th April, covering the Main Road from Lacken to Ballyhane and the Coosane Road from the Village to the Pike Cross. Can you spare an hour to help ensure that the roads in your community are litter-free? Assembly will be in the Village at 10am.
.
Newsletter
Click here to read  the April issue of the National Tidy Towns newsletter.
.
Climate Action
Tipperary County Council would like to hear any thoughts, comments or observations on how the Council (TCC) and County Tipperary should transition to a low carbon county.  TCC is undertaking a pre-draft non-statutory public consultation to assist with preparation of its Local Authority Climate Action Plan.  The link to the consultation on TCC's website is https://www.tipperarycoco.ie/environment/environment/environment-latest-news/2023/tipperary-county-climate-action-plan-non.  Submissions will be accepted up to Friday 14th April.
_________________________________________
18th March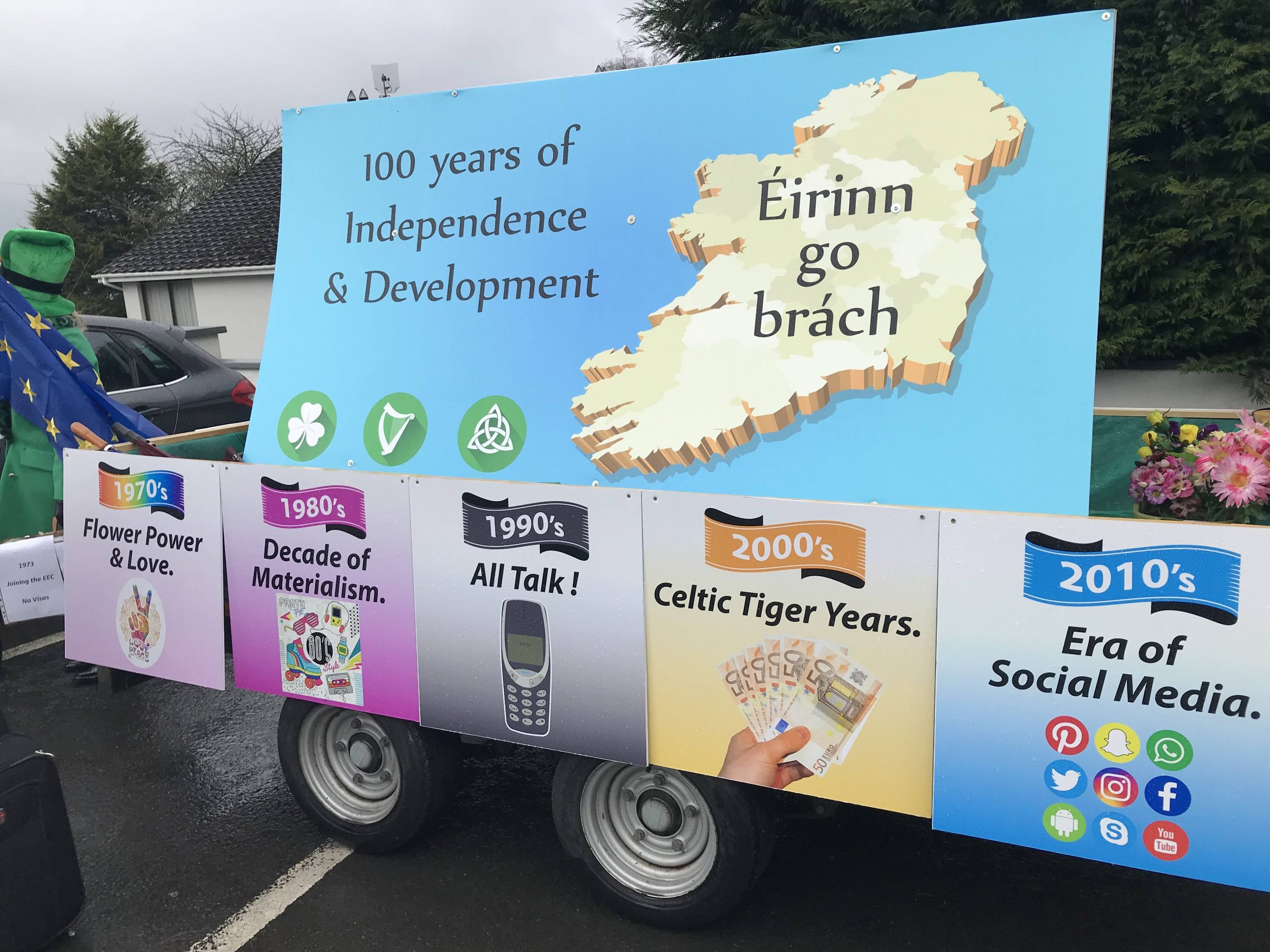 St Patrick's Parades
We had a very successful week's involvement in the local St Patrick's Parades. We dug out the material that we had prepared for 2020 before Covid intervened and cancelled everything. The theme of our float was highlighting a century of Irish independence and development. Many thanks to everyone who helped depict each of the decades. We were named best float in the Newport parade and won the overall prize in Ballina/Killaloe. Click here to see a selection of pictures of the parades.
___________________________________________________________________________________________________________________________________
5th February
Notice Nature
The arrival of spring sees nature awakening. Snowdrops, crocuses and daffodils have come into flower during the past few weeks. The first crocus was seen in the village on 20th January. We have reports of the first daffodil at the Weir on 2nd February. Why not look out for new life in your locality and report the first sightings of emerging flowers/plants, the arrival of migratory birds, animals coming out of hibernation, etc. We would love to hear from you.
.
Newsletter
Click here to read the National Tidy Towns first newsletter of 2023. An article on the planting and care of trees should be of interest to many.
.
St. Brigid
In a February tribute to one of our national patron saints, we have placed an image of St Brigid's Cross on the Village Green with an accompanying message (as Gaeilge) invoking the saint to cover us with her cloak.
Well done to Brett Fitzpatrick who created a large St Brigid's Cross which will be displayed in front of the altar at the Church for the next few weeks.