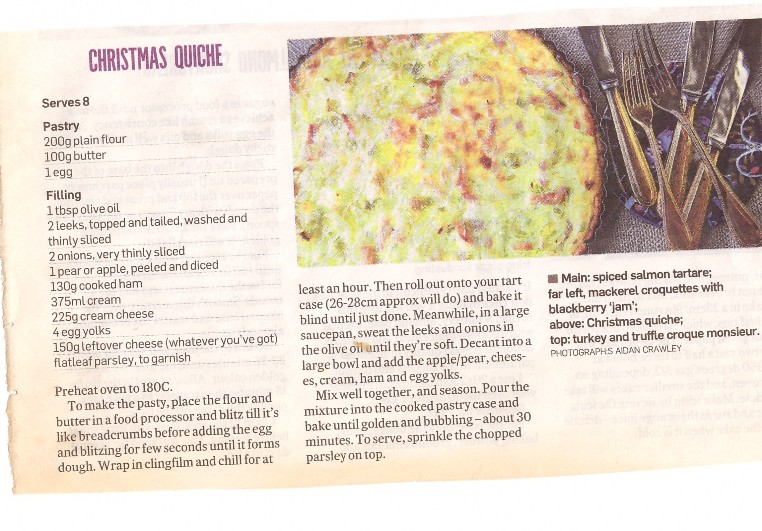 USES FOR BREAD (20% is wasted typically)
1. Breadcrumbs:
– Crisp up Shepherd's Pie
– Egg & breadcrumb coating
– As a binding in meatballs, burgers & meatloaves
2. Croutons
– Cut up bread into small dices, sprinkle with oil, a little salt & what ever herbs/spices you like & bake for 8/10 minutes.
3. Bread & Butter Pudding
– Mix older bread with sultanas, eggs, cream, sugar & vanilla
4. French Toast
– Sweet Version: Soak bread slices in beaten egg, fry on both sides in melted butter until golden brown. Sprinkle over sugar & cinnamon while hot. Top with warm fruit/compote.
– Savoury Version: Soak bread slices in beaten egg, fry on both sides in melted butter until golden brown. Serve with a poached/fried egg, rasher, sausage or beans.
5. Panzanella
– Combination of tomatoes, stale bread, onions, cucumber, tomatoes, capers & basil.
USES FOR RICE:
1. Egg Fried Rice
– Add whatever takes your fancy although fish compliments it well
– Demonstration of Egg Fried Rice
2. Stuffed Mushrooms or Tomatoes or Peppers
– Rice, tomato, cheese & basil
– Rice, onion, nuts, tomatoes, sultanas, herbs & seasoning
– Just experiment or 'google'
3. Kedgeree
– Cooked flaked fish, rice, parsley, hard boiled eggs, curry powder & sultanas
4. Soup
– Use to thicken soups or just add for a change of texture
– Chicken & Rice Soup
5. Omlette / Frittata
– Onion, red pepper, garlic, tomatoes, eggs, herbs, rice & cheese
6. Salads
7. Arancini
– Typical Italian snack i.e. tasty fried balls of rice stuffed with cheese but loads of variations & great to make with children
USES FOR PASTA
1. Pasta Bakes
– Ham, broccoli & cheesy sauce
– Loads of ideas online
2. Quiche
– Eggs, milk, flour, tomatoes, mushrooms, pasta & cheese
3. Savoury Pie
– Cooked pasta forms a crust when mixed with egg whites & cheese
– Top with cottage cheese
– Top off with a meaty sauce e.g. bolognese
4. Stir Fry
– Throw in with stir fry vegetables & works a treat as gets a little crunchy on the edges
5. Salads
– Great with tuna & roasted peppers
– Grated carrot & dressing
6. Souffles
– Spinach, pasta & cheese spouffle: Brilliant weekday family meal
– Chop & change with different ingredients
USES FOR SALADS (Almost 50% is typically thrown out)
1. Turn them into Juices or Smoothies
– Add some grated ginger or apple to minimise the vegetable juice flavour
2. Use in Sautes or Stir Fries
– Works well for darker lettuces & salad greens e.g. kale, spinach & chard
3. Coleslaw
– Trim any yellowing or wilted bits & slice thinly as you would with coleslaw & add a vinaigrette
4. Make Lettuce Soup
– Really!!!!
5. Make Lettuce Wraps
– Instead of bread as the outer for a filling use a lettuce leaf. Children love this!
– Rice, meat, vegetables & a red pepper sauce
6. Storage of Lettuce
– *NB* Take out of plastic & wrap in newspaper if a head of lettuce
– If in a bag, add in a lightly dampened sheet of kitchen towel at either side of the bag
FAMILY QUICHE
For the Pastry – 170 g. (6oz) plain white flour
85 g. Butter or Margerine
1 egg yolk (optional)
Few tablespoons of cold water to bind.
For the filling
175 g. Bacon rashers diced or diced ham leftovers
1 Onion chopped
150 g. Chopped mushrooms
Chopped tomatoes or diced courgette (optional)
4 Eggs
Some chopped Parsley or Chives
200 ml. Cream or milk or a mixture of both.
40 g. Grated cheddar cheese
Oven – 180 c. Large pyrex dish or baking tin. Bake approx 35-40 minutes
Roll out chilled pastry to fit base and sided of tin.
Fry the onions in little olive oil for a few minutes. Add mushrooms and fry for a few minutes.
Grill or fry the rashers then chop into little pieces.
Put bacon, mushrooms, onions and any other fillings you are using into pastry base, sprinkle grated cheese on top, also sprinkle chopped parsley or chives if using.
Mix eggs with milk/cream. Add salt and pepper and pour over mixture.
Make sure mixture is set and golden brown before removing from oven.
BANANA MUFFINS
190 g. Plain flour
1 tsp. Baking Powder
1 tsp. Soda
½ tsp. Salt (all sieved together)
3 Large Bananas Mashed
165 g. Sugar
1 Egg
75 g. Butter – melted
Add some chopped nuts and grated nutmeg or cinnamon if desired.
Method
Combine mashed bananas, sugar, egg and melted butter. Fold in flour mixture and mix until smooth.
Add nuts and nutmeg if using.
Put into bun cases and bake for 15 minutes (approx) Oven temp. 190 c. Makes approx 24.
Dead Simple Tomato Sauce
INGREDIENTS:
2 tins of tomatoes, chopped (400g each)
4 garlic cloves, peeled & crushed/chopped
2 teaspoons of sugar (if not using roasted peppers/carrots)
Salt & freshly ground pepper
50 ml rapeseed/olive oil
1 medium roasted red pepper, chopped & the juice from roasting
1 medium red onion, diced
1 large carrot, grated raw
METHOD:
1. Gently fry (saute) the diced red onion in the oil for 10 minutes. Do not brown.
2. Add all the rest of the ingredients & simmer slowly for 25-30 minutes.
3. NOTE: If you have an old, rock hard bit of ungrateable Parmesan, throw it in as it will make the sauce taste even better.
4. Blitz the sauce with a blender or in the food processor when cool.
5. Enjoy as a sauce, add to meat sauces, topping for pizza base or indeed anything.
6. Freezes brilliantly so make in large batches.
TIPS ON HOW TO SAVE ON YOUR FOOD BILLS
1. Know Your Food Waste
– Boring but an eye opening exercise
– Take a physical note of what you are throwing out in a week
– Put the waste into a see through container
– If you can see it & have a note of it, then you can do something about it
2. Plan, Plan & then Plan some more
– Know what is in your cupboard ( www.wholesomeireland.com)
– Plan your meal for the week
– Write your shopping list
– Save time, money & stop food waste
3. Shopping
– Do not go shopping on an empty stomach
– Have your list & stick to it
– Shorter receipts, money saved & lighter bins
4. Storage
– Knowing the right place for the right food is half the battle
– Know your dates & use your fridge & freezer
– Great many ways to preserve food
WILD GARLIC PESTO
50 g. Fresh wild garlic leaves
25 g. Pine, cashew, hazel or walnuts.
200 ml. Olive oil or rapeseed oil.
40 g. Grated parmigiano – reggiano cheese
Pepper and Sea Salt.
Method.
Blitz nuts and ½ oil in food processor and add grated cheese.
Then add garlic and remaining oil and blitz to the right consistency.
Use as a dressing for salads. Pour into sterilized jars. Store in fridge or very cool dark pantry.
Pesto can also be put into small containers and frozen.
Healthy Banana Cookies
INGREDIENTS:
3 ripe banana
180g/ 6 oz/ 2 cups oatmeal (porridge flakes)
115g/ 4 oz/ 1/2 cup pitted dates, chopped (use raisins/sultanas, presoak to release sugars)
100 ml/ 1/3 cup sunflower oil
1 teaspoon vanilla extract
1 teaspoon cinnamon
Optional: Add some dried coconut or nuts, experiment!
METHOD:
7. Preheat oven to 180 degrees. Line baking trays with parchment paper or grease well.
8. In a large bowl, mash the bananas. Add oats, dates, oil, vanilla & cinnamon & mix well. Let sit for 15 minutes (NOTE: I did not do this due to time constraints for the ones you tasted at our demonstration last night)
9. Placed rounded teaspoons of the dough onto the prepared trays. (NOTE: The cookies do not spread so you may want to shape them yourself)
10. Bake the cookies for 20 minutes or until they are golden brown. Let cool on the trays for 5 – 10 minutes & move to a wire rack to cool completely,
11. They say they are best enjoyed the day after baking but you all tasted them the day they were baked so see what you think.
12. Enjoy.
Why do we throw away so much food?
1. Leftovers
– Too much food prepared or plated
2. Partially used foods
– unused foods & food left at the back of the fridge & forgotten about
3. Passed its use by date
4. Food gone off
5. Passed its best before date
6. Badly prepared
– Just did not work e.g. Liver stroganoff
7. Change of plans