Transport and Home Energy Use Newsletter
SAVING YOU MONEY AND HELPING YOU REDUCE YOUR EMISSIONS
Birdhill National School and Birdhill Tidy Towns Committee in conjunction with researchers from the University of Limerick have measured our community's Ecological Footprint using a survey form which you filled out last April. Our Ecological Footprint is the amount of carbon dioxide emissions that are related to our domestic energy, waste, water & food consumption and personal transport habits – summed up and converted to the amount of land required to absorb this carbon dioxide. Thanks to all the Birdhill residents who replied to our survey in such big numbers. We really do have tremendous pride in our environment here in Birdhill.
The survey will be repeated in April 2011.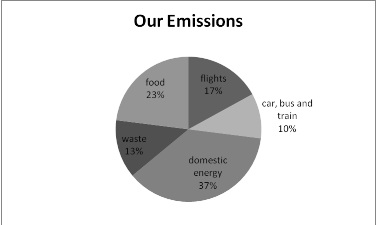 If everybody in the world lived as we do in Birdhill, we would currently need nearly 3 planets to sustain our lifestyles. Our consumption of stuff causes emissions, global warming, depletion of natural resources and contributes to extreme weather events. Emissions also impact on our health and can contribute to asthma, lung disease, respiratory problems, heat stroke, skin cancer, etc. The average resident requires an area of forest the size of 11 football pitches to absorb their carbon dioxide emissions. As you can see in the chart above emissions due to the consumption of energy in our homes and for our transport corresponds to almost three quarters of our impact. In this newsletter we will look at how to reduce this and save money.
Using Energy in our Homes
Emissions due to our use of fossil fuels at home, come from consumption of electricity, gas, coal, turf, wood and briquettes and cause well over one third of our total impact as can be seen in the chart above. Heating each of our homes is therefore very expensive on our pockets and each year it is responsible for a column of carbon dioxide one square metre in extent, sitting on top of each home's chimney and extending upwards for over 4 kilometres. The good news is that because we produce so many emissions it really is easy and painless to reduce them. With a great idea, Kevin Connolly from Birdhill National School says 'Make it your goal to stop using coal!'
This use of fuel eats up our natural resources and the emissions cause global warming but if you try to do one of the following eight things to help, you will also save money. And to help you, grants are now available at www.seai.ie under the 'Home Energy Saving Scheme' to improve the efficiency of your homes.
1) New boiler: many homes have a boiler that is less than 75% efficient. Buying a new, more efficient (90%) condensing boiler means you gain €300 per year on heating oil.
2) Open fires lose 9/10 of your heat up the chimney so a new wood burning stove which is 6 times more efficient saves money. You can save a fortune on your fuel bills and get real cosy by installing one.
3) Reducing internal temperatures will have a big effect. A 1 degree reduction can save €250 every year. Other householders who have done this acclimatise within days to a temperature of 19 rather than 20 degrees Celsius.
4) Better insulation, particularly of cavity walls and roofs, is important. Insulating the house's cavity wall can save €300 every year and you can get a grant for this.
5) Intelligent central heating controls will also help. A good heating programmer can save over €200 per year and there are grants for these also.
6) Follow the example of many in our community who save loads of money as they do not let their boilers become inefficient and dirty. Boilers need to be maintained once per year and this saves serious money on fuel bills.
7) Did you know that when you add up the cracks and gaps in the walls of your home they let out the same amount, of your warm internal air, as a hole the size of a basketball. Draught-strip and seal your home and save loads. Check windows carefully with a candle – when the flame quivers, you have unnecessary cold air coming in. Silicone any gaps and cracks and fit large curtains to window openings. If ventilation inlets let too much cold air in, try to fit well-made adjustable controls on them. This will save you lots as two thirds of your heating bill can be due to a leaky house.
8) Hot water needs are creeping upwards, as power showers are installed in homes. You could easily save €100 and carbon dioxide emissions on water heating every year by taking shorter showers, and not baths, and using slightly lower temperatures.
Cooking and Lighting
The cheapest way to cook is with gas hobs, pressure cookers and microwaves. Microwaves, which are in just over 40% of our homes, save your money because they just heat the food being cooked and not oven space, air, water etc. Installing just 4 energy-saving light bulbs, in the rooms you spend the most time in, can use less than one quarter of the electricity you currently use for lighting and you will save over a tonne of CO2 and €320 within 6 years. Change all of your remaining lights to CFL bulbs and save over €90 per year for the average home. CFL bulbs can be bought on special offer now for €2 in the €2 shop on William Street in Limerick and sometimes in places like Woodies and Atlantic Homecare.
Electric appliances
The biggest users of electricity around the home are the tumble dryer (over €1.08 per cycle), the refrigerator (over 30 cent per day), the washing machine (over 48 cent per day), the dishwasher (over 30 cent per cycle) and the plasma screen TV (over 56 cent per day). Save money by keeping your fridge or freezer full – you can fill empty gaps with boxes. If you leave the freezer door open for one minute it can take half an hour to get it back to the correct temperature. New more efficient fridge freezers can save €60 per year. Keeping fridges and freezers in unheated rooms can save you lots of money. TV's are greedy, so maybe buy a small liquid crystal display screen (19-20″) if you need to replace your old TV. It will save the household 60kg per year in emissions and lots of money. Big plasma screen TVs are drains on electricity – avoid them. Digital set-top boxes like sky boxes use power every hour on standby when they are not actually working. However a new Freeview set top box uses half this amount on standby and one example is the Phillips DTR range. About €250 buys a DVD recorder with a hard disc, capable of storing hours of TV programming. If you use a hard disc DVD recorder for two hours a day it will consume more electricity when on standby than when in use. The Panasonic range of DVD recorder uses under half as much in standby mode.
More residents are using spare rooms in winter for drying clothes and clothes lines in summer, instead of tumble dryers. Line-drying your washing saves over one euro per load or typically €400 per year. If you feel you must use a tumble dryer, buy a gas-powered one or one with a heat exchanger and fill it with clothes. You will save a tonne of CO2 emissions in 6 years by turning your washing machine dial to 30 degrees rather than 40 and you will save over €50 per year. Choose energy-efficient washing machines and save loads!
A Modular Home Automation Remote Controlled System is a device which cuts wasteful standby use of electrical appliances. This small piece of electronics plugs into a wall socket. The appliance then plugs into this. The householder uses a remote control to cut the power to the appliance. When going to bed it is a simple matter of pressing one button which will turn off up to four electronic appliances; computers, TV, DVD, mobile phone chargers etc. A home with a set-top box, a computer, a games console and a DVD recorder can save over €60 a year. You can buy this in Maplins in Limerick (beside Dunnes Stores on Childers Road or their website http://www.maplin.co.uk}. Or go to a reputable electric store where it costs about €30. By turning everything off at the wall, emissions from electricity can be reduced and hundreds of Euro can be saved each year. On average we boil twice the volume of water we need so an eco-kettle could save you its cost price in a couple of years. Eco-kettles cost about €45 at www.ethicalsuperstore.com and would make a great present.
The good news is that most residents already use some energy saving options like for example, lagging jackets, energy-efficient appliances, energy-efficient bulbs, presence detectors for lights, motion sensor lights, daylight sensors for lights, thermostats in rooms, automatic closers for doors, timed heating. By ensuring your hot water tank is well insulated, you will save a tonne of CO2 within 6 and a half years and save over £20 per year on your heating bill.
Renewable Energy
Our survey shows some people have installed renewable energy technology in our community. There are virtually no planning restrictions on installing Wind, Ground Source Heat Pumps or Solar Power in our homes, once sensibly sized. Grants now exist for some of these technologies, and information on installers and what you need to do can be accessed from Sustainable Energy Authority Ireland (www.seai.ie and click on grants).
Case Study
Eddie & Fiona McInerney, Cooleen, have made conscious decisions to save energy in their house. They have thermostats installed in each room and use energy-saving bulbs throughout the house. Solar panels fulfil all their hot water requirements for more than half the year. "We don't need to turn on the immersion from April to October," explained Eddie. "We find our wood-burning stove is a great source of heat for the house in winter. Our central heating burner uses kerosene and we ensure that it is serviced annually."
Transport
The use of cars and aeroplanes make up over ¼ of our emissions to the atmosphere. With the rising price of petrol and diesel many residents can now feel the benefit to their pocket and their health and fitness by reducing their car journeys of 3 miles or under. If you drive a short distance to the shop to buy one litre of milk ask yourself – Why use 2 litres of petrol to buy one litre of milk!
There are many small but important ways in which you as a driver can make significant savings on fuel costs and reduced emissions of CO2 and other pollutants:
A regular driver can save a tonne of CO2 and €1000 per year by sharing their daily journey with just one person.
Significant emissions arise due to engines idling. Some say being stuck in traffic is a good way to learn mental patience; we say it is a good way to become mental patients! Turn off your engines if you think you will be stopped for more than 9 seconds and this will save your fuel and money.
Plan ahead by combining trips (shopping, school runs etc.), use less congested routes & avoid rush hour.
A cold engine uses significantly more fuel than a warm engine – drive off gently as soon as possible after starting your engine and use the choke sparingly: an open choke can double the fuel used.
An energy-aware driving style can save you over ? of your fuel.
Poor engine-tuning or lubrication, wheel alignment and poorly adjusted brakes can all increase fuel consumption. Have your car regularly serviced.
Inflate tyres correctly to manufacturer's recommendation.
An aggressive driving style can increase fuel consumption by over 1/10 above average and increase environmental pollution by over ?. Avoid harsh acceleration or heavy breaking; also slowing down in good time saves fuel.
Compared to fuel use at 50mph, fuel use at 60 mph increases by nearly 1/5 and at 70 mph by nearly ?.
Avoid over-revving the engine unnecessarily and drive in a gear position suitable to road conditions.
The sun-roof fully opened consumes up to 4% more fuel, and half-open up to 3%.
On bends, reduce speed in time and accelerate smoothly when you are halfway through a bend. Late, heavy braking before a bend and rapid acceleration leads to excessive fuel consumption.
A roof rack can increase fuel consumption by 2/5 and a cycle rack with two bicycles by over ?.
Use air-conditioning sparingly – as running it continuously increases fuel consumption significantly.
Be aware that the use of electrical devices increases fuel consumption, but do not compromise safety.
Rear screen heaters increase fuel consumption by 3% – 5%, so switch it off when the window is demisted.
Front windows half open consume more fuel at higher speeds, so use the air vents instead.
Do not carry unnecessary weights in the boot.
The average car emits 180g of carbon dioxide for every kilometre travelled. SUV's can emit a staggering 330g carbon dioxide per kilometre; this is double the emissions and cost of running a large family estate car.
Change your car for a small/medium-sized diesel with manual transmission and your emissions will be 130g per kilometre.
Work from home, whenever possible
Use local shops and services where possible, take holidays close to home, and use the bus or walk.
An electric or Flexi-Fuel car.
Ford has an ethanol/petrol car. This model can run on both E85 (85% sugar beet ethanol and 15% petrol) and on conventional petrol. So if you can find an E85 pump, you buy E85, otherwise you buy ordinary petrol. This car saves you thousands of euro to buy, because it has reduced excise duty. You can find out more about green cars at www.greencarsite.co.uk.
New electric cars are about to be launched in Ireland and the Nissan Leaf is well worth a look, as it comes with a government grant. More information can be got at www.seai.ie under grants. You can check your cars emissions at http://www.seai.ie/uploadedfiles/Energyandyou/SIMIEmissionsGuide2004.pdf
Public transport
On average a bus or train has 10 times less impact on the environment than a car per kilometre. Therefore, we need to walk, bus, bike and use trains more. Actual carbon emission figures vary according to the type of vehicle and the number of people using it. Intercity coaches are best – as low as 20g of CO2 per passenger kilometre. These coaches travel long distances and often carry large numbers of passengers. This makes them the best form of travel, if one wants to avoid carbon dioxide. You could try a trip by bus into Limerick, maybe for shopping, and test out the buses. Every hour, a bus leaves Birdhill for both Limerick and Nenagh and buses also return hourly. Buses leave to Limerick at 07:25 and 08:00 in the morning while trains leave Birdhill for Limerick four times a day at 08:17, 11:25, 19:08 and 20:10. These public transport times act as a guide and services may vary or be different at weekends. Before you go, verify bus times at 061 313333 or train times at 061 315555, 067 31232, 061 379118.
Air travel
Our air travel causes the most of our transport emissions and, as well as carbon dioxide, jet engines emit oxides of nitrogen and huge quantities of water vapour which are powerful warming agents. The contrails (stream of water vapour) in the picture are released in an extremely damage-sensitive part of the atmosphere. As a result of these extra emissions, it is now thought that air travel emissions are about three times as bad as the simple carbon dioxide output might suggest. We know that if you are travelling to a warmer climate then flying is convenient but it is also one of the fastest and cheapest ways to cook the planet. Air transport is very environmentally costly and cheap seats are exactly that, as their negative environmental impact is massive! Although an efficient aircraft, travelling fully loaded, can cover miles with less fuel per person than the average car, aircraft travel covers vastly greater distances than cars. Just one return flight to the US can exceed your emissions for one year's car use. A few flights to remote locations, and we have been responsible for many tonnes of global warming gases.
There are big advantages to using ferries for holidays and some of the quotes of people using ferries instead of planes are:
'It was a fun holiday', 'The ferry was nice and spacious', 'We saw a lot more than we would on an air trip', 'We had some time in Nice and Lille, including a good breakfast on the way back with another family we'd met', 'The view of Nice and the Cote D'Azur from the boat was wonderful' 'We never had a moment's sense of being herded through the air travel process' & 'There was plenty of time at every stage'.
Alex Hijmans is a journalist who takes trips to Holland by ferry and on one such trip calculated that air travel was much worse, causing 30 times more emissions.
Case Study
Joe & Gráinne Delaney's timber-framed house in Cregough is well insulated – they find that the need for heating has been greatly reduced. They make a determined effort not to leave appliances on when not in use. They intend availing of grants to install further energy-saving devices in the house in the coming year. Joe endeavours to share journeys to work with others. "I also use the train quite a bit," Joe told us. "I get a monthly ticket and I can use my time much better while on the train. Birdhill is very fortunate to have such a wonderful bus and train service."
Winners: Congratulations to the following who won prizes for their art work and slogans:
Sean Moloney (Think Green and your efforts will be seen)
Aislinn Duffy (Make Waste Prevention Your Intention)
Mary Clifford-Duggan (Reuse for Fun)
Aisling Bourke whose drawing showed a car tyre recycled into a mouse-mat for computers